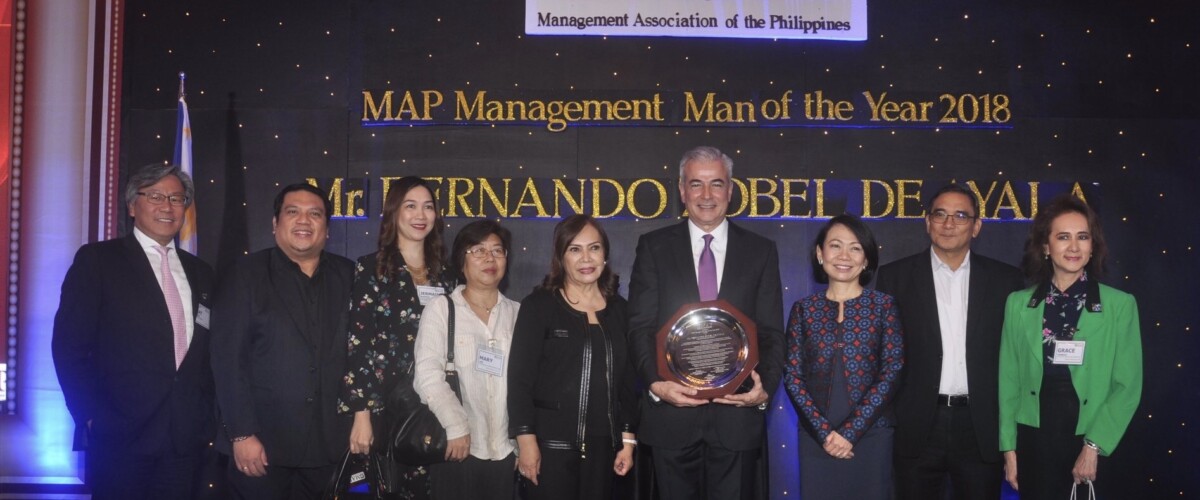 Congratulations Mr. Fernando Zobel de Ayala – MAP Management Man of the Year 2018!
One A-TEAMS Consultants Pte. Ltd. (Singapore) CONGRATULATES Mr. Fernando Zobel de Ayala for being awarded as 42nd Management Association of the Philippines (MAP) Management Man of the Year 2018!
Salute to Don Jaime and sons Jaime Augusto and Fernando for being the only father and sons who were awarded the prestigious MAP MMY as they join roster of esteemed individuals in the business community and government who have attained unquestioned distinction in the practice of management and for contributing to the country's progress.
Mr. Fernando is the President and COO of Ayala Corporation; Chairman of Ayala Land, Inc., Manila Water Company, Inc., AC International Finance Ltd., Ayala International Pte Ltd., Ayala DBS Holdings, Inc., Alabang Commercial Corporation, AC Energy Holdings, Inc., and Hero Foundation, Inc; Co-Chairman of the Ayala Foundation, Inc. and Mermac, Inc.; Director of the Bank of the Philippine Islands, Globe Telecom, Integrated Micro-Electronics, Inc. (IMI), LiveIt Investments, Ltd., Asiacom Philippines, Inc., AG Holdings Limited, Ayala International Holdings Limited, AI North America, Inc., Vesta Property Holdings Inc., Honda Cars Philippines, Inc., Isuzu Philippines Corporation, Pilipinas Shell Petroleum Corp., and Manila Peninsula. He also sits on the boards of various international and local business and socio-civic organizations.
Photos: One A-TEAMS Consultants Pte. Ltd. (Singapore) Founder and CEO Michael Sherwin Macatangay with Mr. Fernando Zobel de Ayala and brother Mr. Jaime Augusto Zobel de Ayala II (MMY 2006); MAP colleagues and executives Mon Fernandez (MAP President, Maynilad CEO), Marife Zamora (MAP Past President, Convergys Chair), Riza Mantaring (Incoming MAP President, Sun Life Financial Chair), Grace Tiongco (First Credit Corp. CEO), Jermaine Bombasi (Suisse Lab Cell Therapy CEO), Ray Chan (Credit Suisse Executive Director), Mary Ang (Heritage Inc. CEO); and other MAP members and executives at Rigodon Ballroom The Peninsula Manila